Regular price
Sale price
$51.00 USD
Unit price
per
Sale
Sold out
Old school Hollywood glamour. This white micromodal satin fabric just seems to pour across the bed with a wonderful smooth surface.
See More →

Micromodal is an organic, man–made fibre. Woven from beech tree cellulose thread it is a wonderful natural alternative to silk. Cool to the touch , it is 50% more absorbent than cotton and super breathable making it very comfortable to sleep in. So, similar to silk but a far more durable and suitable luxury for daily use.


Fabric : 100% Micromodal. Finished in Italy

All Dormitory fabrics are OEKO-TEX ®standard 100 certified.


Care
Bed Linen Sizes
Buying Guide
Share
View full details
Care of Micromodal
Washing & Drying 
Although more robust than silk, the fabric still has to be handled and washed with care. It should be washed no higher than 40° and a mild soap used.
Micromodal should never be tumble dried.
Ironing
It should be ironed on a warm setting and should not be finished industrially but by hand.
Bedlinen Sizes
Our stock sizes are designed for the UK measurements shown below. However, if you have a special or unusual size , we can make up whatever you require. Please contact us for a quote.
Please note that our fitted sheets come a very generous 40cm deep as standard.
Sheets and Duvet Covers
Bed
Duvet Cover
Flat Sheet
Fitted Sheet
Single

90x190cm

3ft x 6ft 3"

140x200cm

55x79"

190x280cm

74x110"

90x190cm

35x75"

Double

140x200cm

4ft 6 x 6ft 3"

200x200cm

79x79"

240x280cm

91x110"

140x190cm

95x75"

King

150x200cm

5ft x 6ft 6"

230x220cm

91x87"

275x295cm

108x116"

150x200cm

59x79"

 

King

170 x 200cm

5ft 6" x 6ft 6"

 

170x200cm

67x79"

 

 

Large King

180x200cm

6ft x 6ft 6"

260x220cm

102x87"

180x200cm

72x79"

 

300x295cm

118x116"

Small Emperor

200x200cm

6ft 6" x 6ft 6"

290x235cm

118x92"

205x205cm

81x81"

Large Emperor

215x215cm

7ft x 7ft

300x240cm

118x95"

215x215cm

85x85"

330x295cm

130x116"
Pillows and Pillowcases
 Standard

 50 x 75cm

20 x 30"

 King

 50 x 90cm

20 x 35"

 Square (French size)

 65 x 65cm

26 x 36"

 Boudoir

 30 x 40cm

12 x 18"
bedlinen Buying Guide
Bed Linen Buying Guide                                               
Waking up in high quality bedlinen is a supremely sumptuous and luxurious experience. The right bedding aids a restful night's sleep leaving you refreshed and energised in the morning.
There are a lot of misconceptions about what makes quality bed linen so here are our pointers for what to look for:
Cloth 
Quality bed linen starts with quality fabric which means quality yarn.
Natural fibres are important as this will ensure a fabric that is breathable, responding to temperature and humidity and so creating a comfortable environment for the body whatever the season. This could be cotton, linen or micro-modal.
Not all cotton is equal, there are many varying qualities. Egyptian cotton is a unique genus (type) of cotton that grows primarily in Egypt. This is not the same as cotton that just comes from, or has been processed in Egypt as it has a much longer staple (fibre) which ensures a smooth and strong cloth. Buyer beware: A great deal of Egyptian cotton on the market is in fact inferior Asian cotton that has merely been processed in Egypt so check the small print.
Linen has quite a different handle to cotton. It is generally heavier and can be a coarser cloth which is strong, absorbent and will soften over time and with washing.
Micromodal is incredibly absorbent making it particularly good in hot climates or for those who perspire during the night although its softness and silkiness also give it a cosy feel in colder weather. It has a high sheen so is often selected as an alternative to silk which can be difficult to care for.
Thread Count
What is the thread count? is probably the most asked question when buying bed linen. However, the truth is that thread count is only one measure in gauging quality. It will only tell you how many threads are in a square inch (or centimetre) of fabric thus expressing how densely woven the cloth is.
A very high thread count will be produced using twisted yarns which may or not be of a high quality themselves. As such, it is quite possible for a well made 200tc to be better than a cheaper 600tc.
Weave
Yarn can be woven into either a percale or sateen finish and it is very much a personal preference as to which you choose. Percale is smooth crisp and cool, whilst sateen has a high sheen and, some think, a warmer touch. Whilst sateen has a beautiful lustre, percale is, undoubtably, stronger and more robust so for hotels or environments where there will be intense laundering this may be preferable.
Finish & Handle
As well as the aesthetic appeal, look at the quality of the finish, the hemming, the quality of the stitching. If you hold it up to the light can see through it? If so, then it's too thin. How does it feel to the touch?
In the end buying is very much a matter of personnel choice. Trust your own judgement and feel the cloth with your own hands.
Selection
We recommend having at least three sets of linen per bed: One on the bed, one in the ash and one in the cupboard. This ensures each set a rest from use and wash. Similarly, we would suggest that sets are washed together (soiled or not) to ensure that colour and brightness stay consistent.
We are always happy to answer any queries you might have or, give advice if you are still unsure what to go for. Please do call us on 01273 681844 or email sales@dormitoryuk.com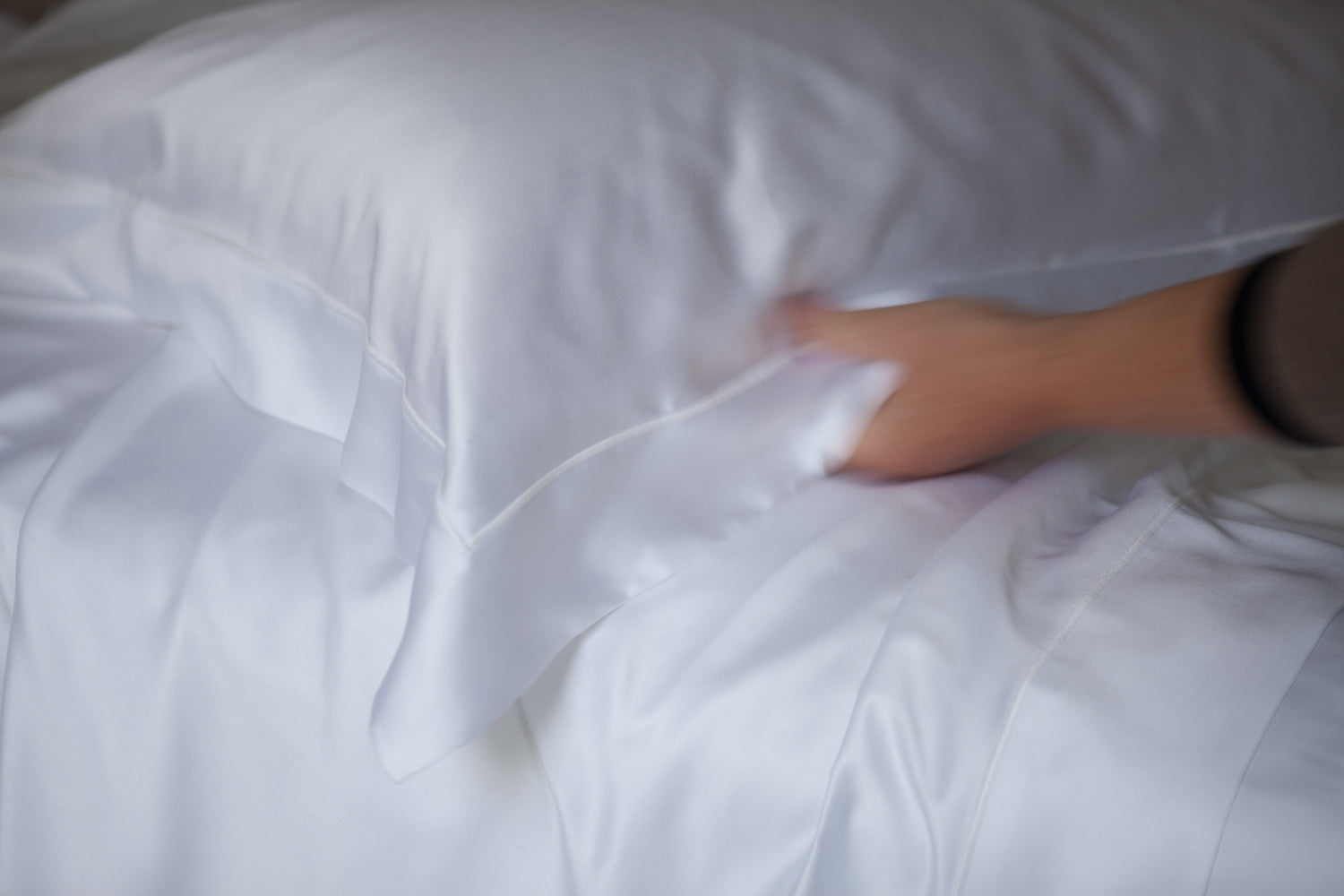 Micromodal
Micromodal is an organic man –made fibre. Woven from reconstituted cellulose thread, it is a beautiful 'artificial silk'. It has all silk's wonderful properties; beautiful drape, smooth surface and coolness to the touch, but is far more durable and a much more versatile luxury for daily use.