Regular price
$185.00 USD
Regular price
Sale price
$185.00 USD
Unit price
per
Sale
Sold out
Our Hungarian Goose Down Duvet is luxurious, filled with velvety soft goose down clusters that will melt away the stresses and strains of the day. All our down products are fresh filled to order so delivery may be up to 3 weeks.
See More →

With an impressive 750 fill power this filling will provide you with a cosy sleep for years to come. The weightless feel and beautifully soft 400 thread count cotton case delivers a product that combines the ultimate in lightness and warmth. Each pocket in the case is hand-filled to ensure there are no cold spots and the piped and double stitched edges provide the finish you would expect from a product of this quality. All the fillings are NOMITE® and Downafresh® certified; a declarations of cleanliness and suitability for use by allergy sufferers.

Filling: Genuine 90% Hungarian Goose Down and 10% Hungarian

Feather Case: 100% cotton
Bedding Sizes
Duvet Buying Guide
Share
View full details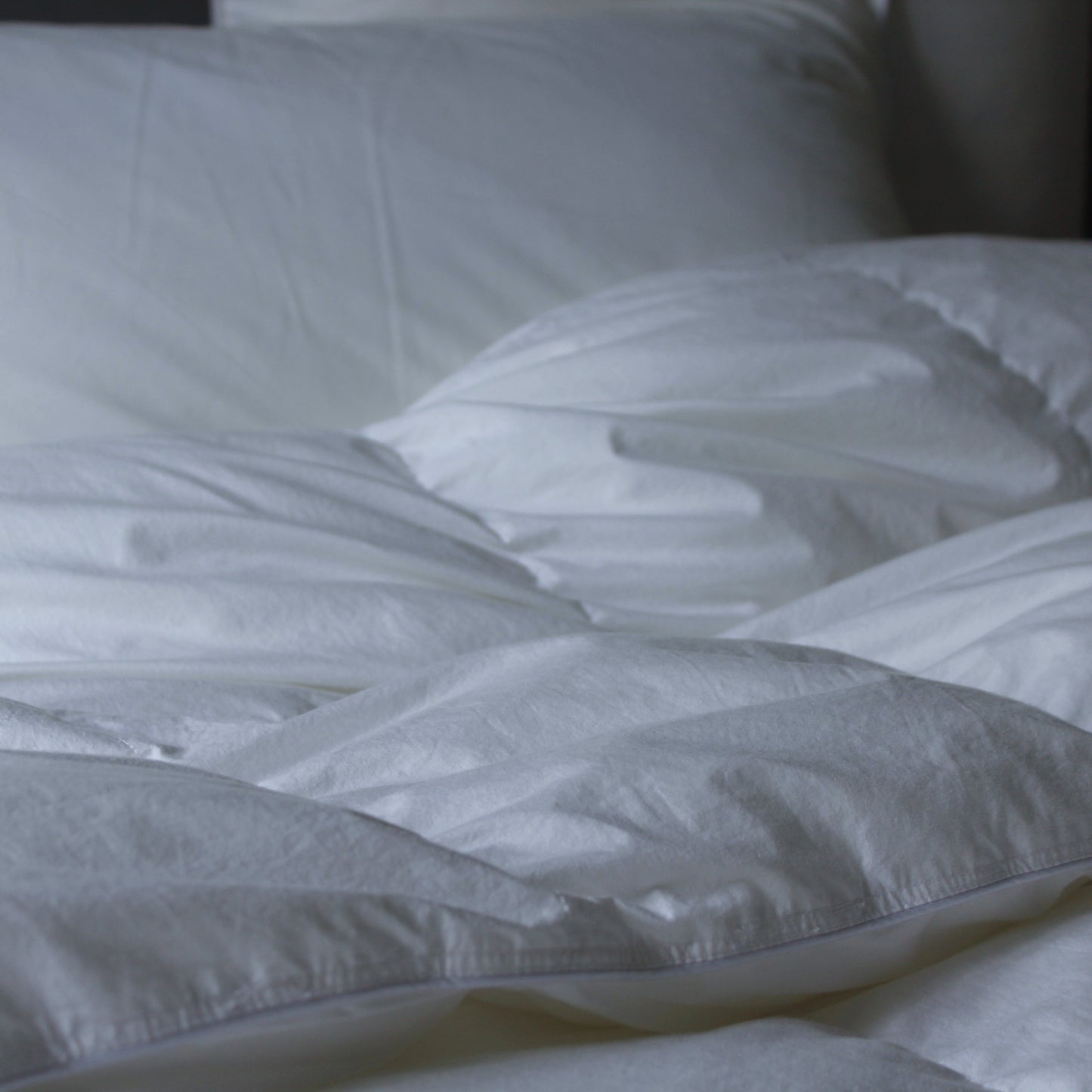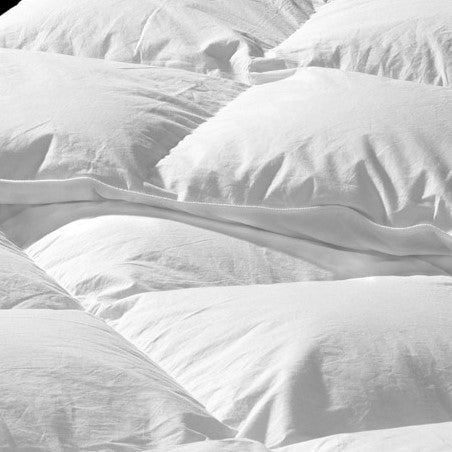 Bedlinen Sizes
Our stock sizes are designed for the UK measurements shown below. However, if you have a special or unusual size , we can make up whatever you require. Please contact us for a quote.
Please note that our fitted sheets come a very generous 40cm deep as standard.
Sheets and Duvet Covers
Bed
Duvet Cover
Flat Sheet
Fitted Sheet
Single

90x190cm

3ft x 6ft 3"

140x200cm

55x79"

190x280cm

74x110"

90x190cm

35x75"

Double

140x200cm

4ft 6 x 6ft 3"

200x200cm

79x79"

240x280cm

91x110"

140x190cm

95x75"

King

150x200cm

5ft x 6ft 6"

230x220cm

91x87"

275x295cm

108x116"

150x200cm

59x79"

 

King

170 x 200cm

5ft 6" x 6ft 6"

 

170x200cm

67x79"

 

 

Large King

180x200cm

6ft x 6ft 6"

260x220cm

102x87"

180x200cm

72x79"

 

300x295cm

118x116"

Small Emperor

200x200cm

6ft 6" x 6ft 6"

290x235cm

118x92"

205x205cm

81x81"

Large Emperor

215x215cm

7ft x 7ft

300x240cm

118x95"

215x215cm

85x85"

330x295cm

130x116"
Pillows and Pillowcases
 Standard

 50 x 75cm

20 x 30"

 King

 50 x 90cm

20 x 35"

 Square (French size)

 65 x 65cm

26 x 36"

 Boudoir

 30 x 40cm

12 x 18"
Duvet Buying Guide
How to Choose
A good quality duvet is an excellent investment for the best night's sleep. The two most important factors to consider will be filling and tog value
Natural or synthetic filling?
This choice will largely be down to personal preference and budget.
A natural filling offers a higher level of warmth for less filling and is more breathable. Down works by trapping warm air and so will respond to the body's temperature holding more warm air when it is cold and less when it is hot. For this reason, it is important not to wear too much in bed under a down duvet or to put blankets over it as this will impinge the downs' ability to do its job.
Goose down has larger clusters than duck down so can hold more warm air which is why it tends to be preferred over duck down. The best quality down comes from birds from colder climates which is why you often see Polish, Hungarian, Canadian or Siberian specified. It is important to know that the down is fully traceable to be sure that what you think you are buying is genuinely what you are getting. Good quality down is soft and light and a worthwhile investment for a comfortable night's sleep.
If you are an allergy sufferer or think the duvet may need frequent cleaning (eg. In a child's room) then a synthetic filling may be more suitable. Recent years have seen fibre development using recycled plastics to create light and fluffy fillings designed to mimic the thermal properties of down without overheating. Anti-allergenic, they are particularly suitable for those who suffer with allergies and can be washed easily.
What are Togs?
A Tog is a measure of thermal insulation i.e. how good a duvet is at retaining heat. The higher the tog, the warmer it will keep you. Some materials are better insulators than others which is why, for example, some duvets can be lighter and even thinner than others but still have a higher tog value.
The tog value you chose will depend very much on your average room temperature and how hot you tend to get in bed. 
Many people will use a 4.5 tog duvet for the summer months and a 10.5 or 13.5 for the winter.
Freshly Filled
All of our bedding is made by a family company here in UK.
As members of the European Down & Feather Assoc. they are able to show full and ethical traceability of their natural fillings and sustainable sourcing of their synthetics. With generous fill powers and good quality casings we are confident of offering duvets and pillows that will offer supreme comfort.