Regular price
$38.00 USD
Sale price
$53.00 USD
Unit price
per
Sale
Sold out
Mona has a fabulous rafia woven cover ina mix of natural, black and olive green with a leather stamp around the glass container, hand made by artisans in Morrocco. Dates is a sweet rich fragrance with notes of fig and patchouli.
Made from 100% vegetable wax.
See More →




Average burn time: 40 Hours 


Weight: 190g 

Measurements: 75 x 90mm 

Made in Morocco. Perfume blended in Grasse, France
Fragrances
Candle Safety
Share
View full details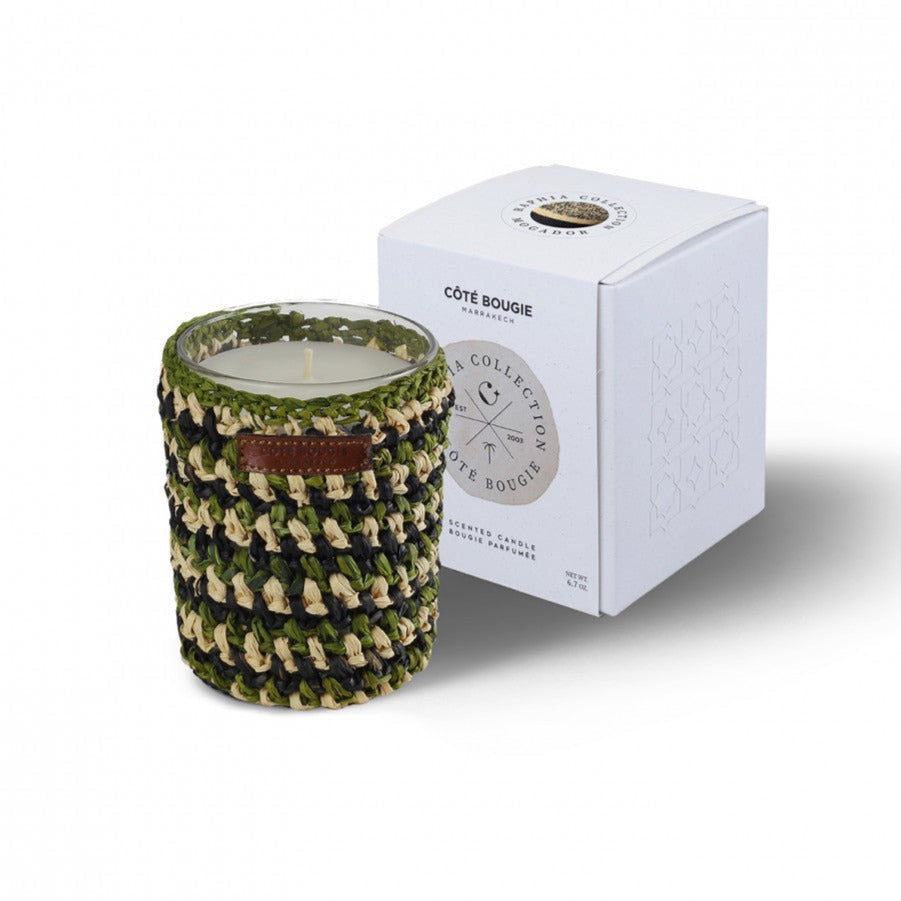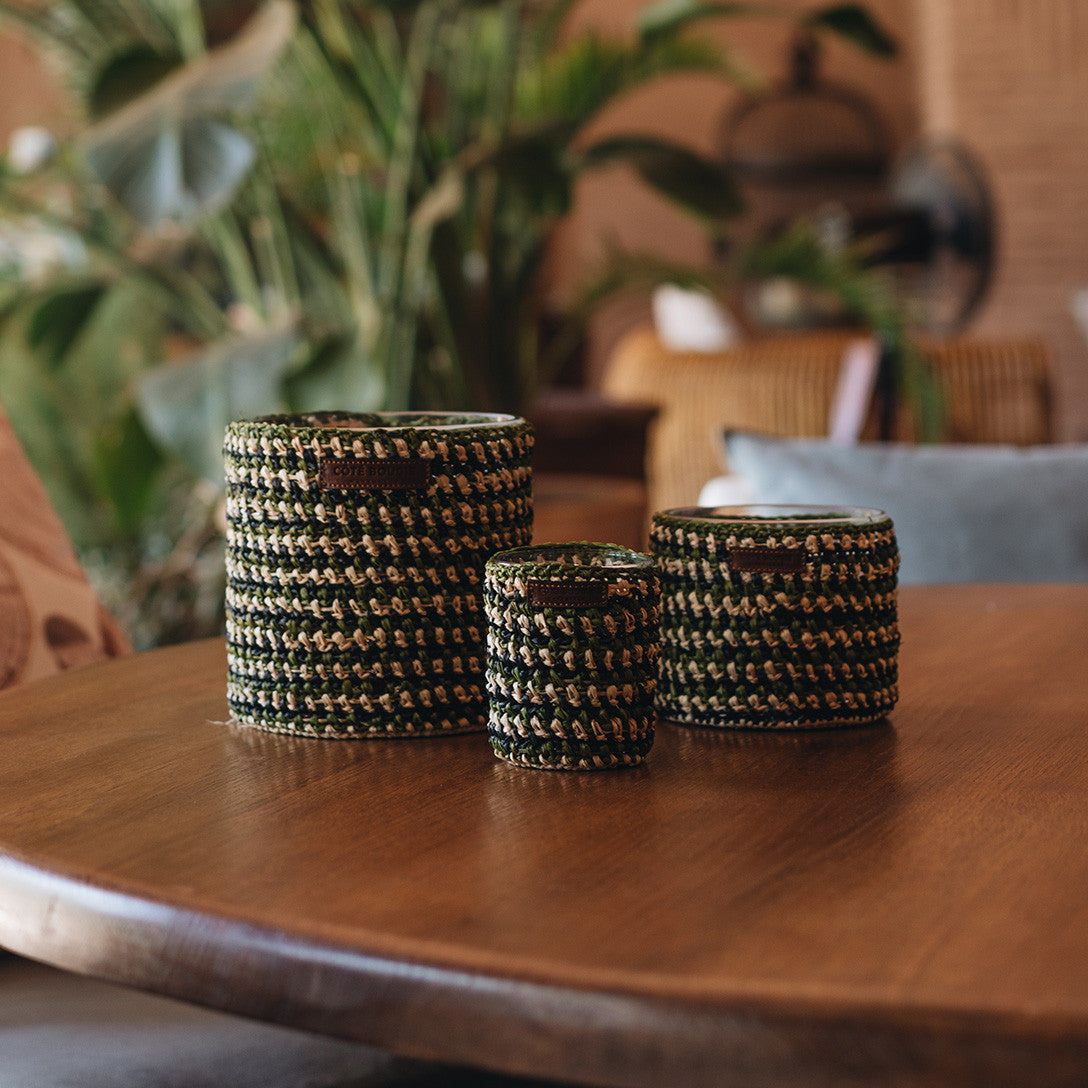 Côté Bougie Fragrances
Oriental scent immerses you in an olfactory journey worthy of the Arabian Nights. Its warm, sweet, slightly spicy notes envelop you in mystery and voluptuousness.
Top Notes: Honey, Cinnamon   
Middle Notes: Cedar Wood, Sandalwood, Vanilla
Base Notes: Vanilla, Musk,
Amber Royal has all the warmth, sweet, slightly spicy notes of amber with touch of light floral notes to lighten its fragrance
Top Notes: Orange, Ylang ylang, nutmeg
Middle Notes: Rose, jasmine, palmarisa
Base Notes: Ambner, Sandalwood, patchouli,
Fig fragrance takes us into memories of naps in the sun, in the shade of fig trees from Morocco. A mixture of fresh leaves and sweet fruits.
Top Notes: Fig Leaves
Middle Notes: Fig Wood
Base Notes: White Cedar
Dates is a breath of elegance, a true declaration of love for the date palms in Marrakech. A smooth and sweet olfactory signature with gourmet notes.
Top Notes: Date, Fig
Middle Notes: Pink Patchouli
Base Notes: Cedar, Tobacco, Musk
Orange Blossom heralds the return of spring in Marrakech, and offers a suave, fresh and sensual scent, which envelope you of light and well-being.
Top Notes: Orange Blossom, Orange
Middle Notes: White Jasmine, Lily of the Valley, Neroli
Base Notes: Musk, Vanilla, Sandalwood
Mint & Tea has the intoxicating freshness of a crumpled mint leaf between your hands, barely spiced up with hints of green tea.
Top Notes: Cassis, Eucalyptus, Pine
Middle Notes: Cut Grass, Crushed Mint Leaves
Base Notes: Star Anise, Musk
Mandarin is a floral bouquet, which brings a note of tangy freshness, a scent that is inseparable from Morocco and its gardens.
Top Notes: Orange, Mandarin
Middle Notes: Orange Blossom, Green Notes
Base Notes: Vanilla, Musk
Jasmine reminds us of a summer night. Touched with the citrus notes of mandarin and creation, intensified by sandalwood and patchouli.
Top Notes: Jasmine Flower
Middle Notes: Mandarin, Grapefruit
Base Notes: Sandalwood, Patchouli
Amber is a precious fragrance, which plunges us directly into the deserts of the East. It has mythical, subtle and warm notes.
Top Notes: Amber, Incense
Middle Notes: Labdanum, Patchouli
Base Notes: Grey Amber, Musk
Cumin is a meeting of woody, leather scent with the spicy warmth of cumin all infused with a background of amber
Top Notes: Mandarin, Cumin
Middle Notes: Pink Incense, Leather accord
Base Notes: Tobacco, Sandalwood, Labdanum, Amber
Candle Safety
It is vital that you follow these safety tips when lighting your candle.
Never leave your candle burning unattended.
Keep your candle out of reach of children and pets.
Never burn your candle on or near anything that might catch fire.
Be sure your candle is placed on a stable, heat-resistant surface.
Keep burning candles away from any drafts.
Don't burn your candle all the way down – know when to say goodbye, and leave 1/2 inch of wax in the bottom of the container.
Never touch or move a burning candle when the wax is liquid.
Place burning candles at least 10cm apart from one another.
Use a snuffer to avoid hot wax splattering, and never use water to put out the flame.
Trim your wick before burning so the flame doesn't smoke, flicker or rise too high.
Trimming the wick
It is important to trim your wick before each burn. If your candle wick is too long it can cause smoking, and burn the sides of the glass. We recommend a cut length of 1/4 inch using a wick trimmer, but smaller household scissors also work. Make sure to only trim your wick once the wax has cooled to avoid excess wick dropping into the melted wax. Having a longer wick will only cause the flame to burn through your wax much quicker
Re-using the container
If you plan on reusing your candle holder, a good way to remove the excess wax is to freeze the holder and allow the wax to shrink. Otherwise, run your holder under warm water and use a little washing up liquid to scrub out the remainder. Soy wax has a lower melt point than paraffin, so you can avoid using boiling water. Take care not to use any sharp or metal objects on the glass as this can remove our white paintwork. With a little gentle persuasion, the sticky tab holding your wick in place, should be easily picked off.
Tunneling
Tunneling is the term used to describe when wax near the centre of a candle burns deeper than the edges. To avoid this, it's vital that you get your first burn just right. Normally 1 hour per inch in diameter will allow for tunneling to be avoided – this creates what's known as a memory ring. After your first burn, try to avoid lighting the candle for short periods of time to avoid tunneling later on. However, make sure to never burn your candle for more than 4 hours at a time, and let it cool for at least 2 hours before relighting.
Uniformity
As our candles are made from natural soy wax, they can sometimes differ in appearance. This will not affect the quality or burn time of your candle. We also avoid using dyes in our candles, but fragrance oils can differ in shade and therefore may tint the wax. Each and every Só Soy candle is uniquely hand poured from a small batch, so wax weight can vary slightly.
Yes, our full product collection is vegan friendly and cruelty free. We never use ingredients that are derived from animal products in the production of our candles. We're also against animal testing.
Côté Bougie
A small family company based in Marrakech, Côté Bougie blends the best traditional craftsmanship of Morrocco with fine materials from France and Italy to produce unusual and long lasting home fragrances